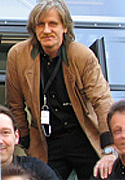 U.W.E.
is a highly qualified and experienced electronics, audio-video-engineer and works almost 20 years in that field.
Professional working in todays "High-End Audio" and digital video (Home-Cinema and HDTV), also production leading for "German High-End" is profession.
A growing collecting of Jürg Jecklins electrostatic and other headphones,- rebuilding and refurbishment of these and newly added Ferrograph Logic 7 recorders is passion.
Not to mention one of the finest early ST-70 Tube Amplifier with handwounded A-470 output transformers, that works also fantastic in combination with Jecklin Float electrostatic Headphones.
So do not hesitate to ask for fixing-techniques, any concerning question for almost every JJ Float electrostatic headphones, or the later Neal Ferrograph Logic / Super 7.